Today marks day three of HTS Valentine Week, and I'm sharing this feminine and flirty floral look that would be perfect for your daytime, valentine's date. Whether it is grabbing a yummy brunch (my favorite!), going shopping (my other favorite! :)), or on a warmer day spending some time enjoying the sunshine, this would be the perfect look.
This gorgeous, white lace top would be a wardrobe item you'll find yourself wearing over and over again. It's great for any season, and has the loveliest details with the lace design and cold shoulder style. I also love that this floral skirt seems formal, but is actually so, so comfortable. It's a scrunch, adjustable waist rather than button or zipper. Major plus in my book.
Tomorrow's Valentine's look is for one of my favorite date nights, so I can honestly say I've had a lot of practice finding the perfect outfits to wear. 🙂 Can you guess what it is? Don't forget to check back in tomorrow to see!
In the meantime, I've partnered with some fellow bloggers to offer a fun giveaway for Valentine's Day. See below for details on how to enter to win a $1,000 gift card to Nordstrom! XoXo.
Valentine's Day Giveaway: How to Enter
With Valentine's Day approaching, I decided to team up with some of my favorite bloggers and bring you a Nordstrom Giveaway. One lucky reader will win a $1,000 gift card to Nordstrom. To enter, please use the widget below.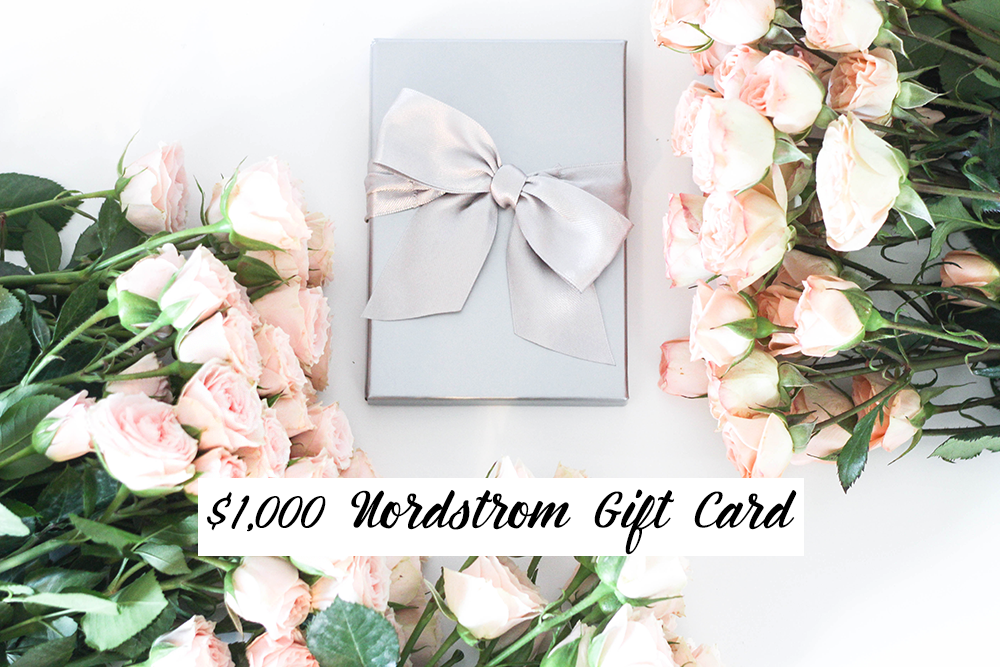 Money Can Buy Lipstick | Mash Elle | Ashley Brooke Nicholas | Diary of a Debutante | Sunshine & Stilettos
Cameron Proffitt | The Styled Fox | A Lo Profile | Visions of Vogue | Inspiration For Moms
The Girl In The Yellow Dress | By Brittani Lauren | A Vintage Splendor | Coming Up Roses | xoxoBella

Style in a Small Town | Sunflowers and Stilettos | Karlie Rae | Audrey Madison Stowe | Nines to 5
Laura Wears | Blush & Blooms | Fashion and Frills | Here's The Skinny | Adored by Alex

Sunsets and Stilettos | Ashley's Passion for Fashion | Coffee Beans and Bobby Pins | Sophistifunk | Life Lutzurious
My Life Well Loved | January Hart | Glitter & Spice | The Blue Hydrangeas | A Gallon of Glitter

Stilettos and Diapers | Styled Adventures | Toreys Treasures | Petite Style Script | Marvelous in the Midwest
a Rafflecopter giveaway

You are sure to discover some amazing bloggers you may not already be following! Good luck!